March 26, 2019
CHAIRMAN JEFFRIES: "HOUSE DEMOCRATS WERE GIVEN THE MAJORITY TO DEFEND HEALTH CARE AND THAT IS EXACTLY WHAT WE ARE DOING"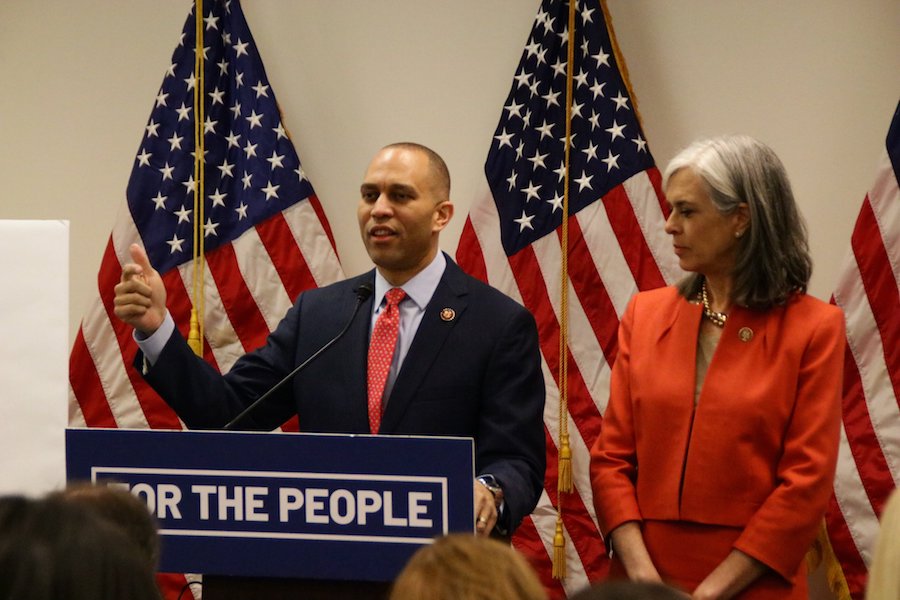 CHAIRMAN JEFFRIES: Once again, the Republicans have shown their true colors. They simply cannot help themselves. Americans all across the country woke up to news that the Trump Justice Department is once again launching an assault on health care in the United States of America. The Republicans want to take away health care from tens of millions of Americans again. The Republicans want to impose what would be effectively an age tax on Americans between 50 and 64 forcing a dramatic increase in premiums, copays and deductibles. Once again, the Republicans want to strip away protections for Americans with pre-existing conditions. They simply cannot help themselves.
This was a defining issue of the 2018 midterm elections. We embraced this fight because House Democrats were given the majority in order to defend health care on behalf of everyday Americans and that is exactly what we are doing.
Later on this afternoon, Chairman Frank Pallone, Chairman Bobby Scott as well as otherMembers of the House Democratic Caucus, including Chairman Richard Neal will be introducing legislation to strengthen the Affordable Care Act. That legislation will protect Americans with pre-existing conditions. Our legislation will expand access to health care coverage. While at the same time, the Trump Justice Department files reckless legal papers to try and destroy health care for tens of millions of Americans. You can't make this up!
And so, there's a clear contrast in terms of what we as House Democrats are about and what Republicans are about. Republicans fight for the wealthy, the well-off and the well-connected. Democrats fight for working families, middle-class folks, senior citizens, the poor, the sick and the afflicted. Period. Full stop. That's the contrast and it's going to play itself out in front of the American people.
[…]
VICE CHAIR KATHERINE CLARK: […] This week, the House is standing up for people, it's standing up for equality because on Wednesday we are going to vote on the Paycheck Fairness Act. This will guarantee equal pay for equal work fulfilling part of our For The People agenda that we are going to look to increase paychecks.
[…]
We cannot say that we value women without enacting legal protections that prevent structural inequalities and without recognizing the vital role that women play in enriching our economy. So we are excited at this historic vote. It is the first time in almost 60 years that we are going to be stressing pay equality. It is part of the For The People agenda the Democrats promised and are delivering on.
Video of the full press conference and Q&A can be viewed here.
##
---
---
Next Article
Previous Article